Dublin Bay delivers for Lennon Irish Laser Masters writes Sean Craig, Event Organiser.
The Irish Laser Master Championships took place at the Royal St George Yacht Club in Dun Laoghaire over the weekend of May 19/20, generously sponsored by Lennon Racewear www.lennonracewear.com. The regatta attracted 45 entries, split into 30 Full rigs and 15 Radials. The Irish fleet, drawn from all four provinces, was boosted by competitors from the US, UK and Sweden, over to test out the venue for the Laser Master Worlds in September 2018 http://2018masters.laser-worlds.com/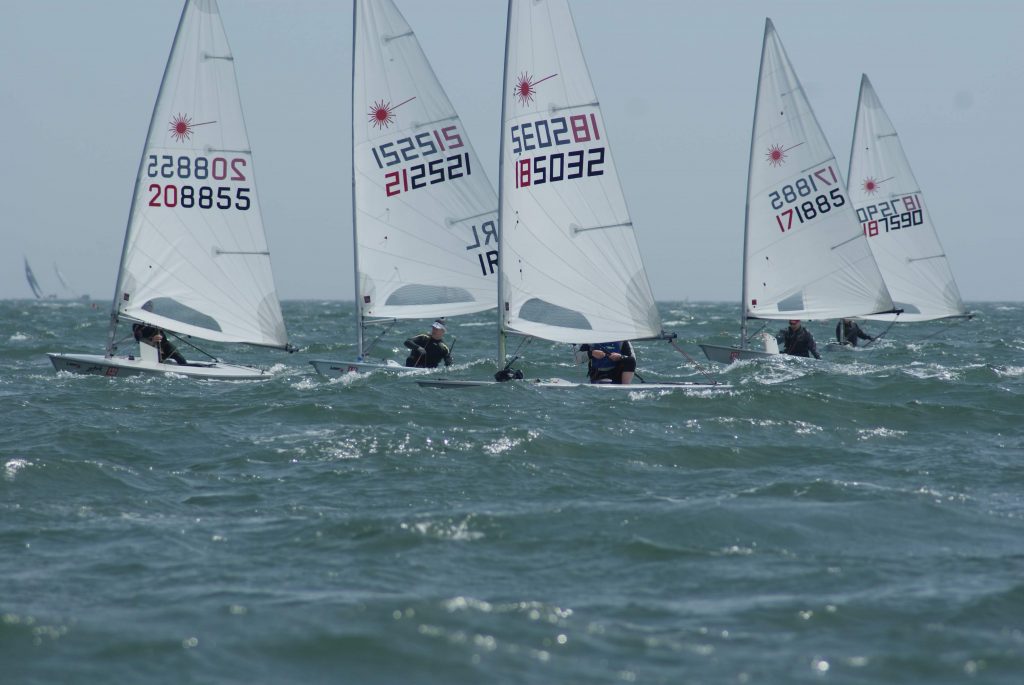 After a season of mainly light winds so far, competitors gathered in gorgeous sunshine on Saturday morning, buoyed by a promising forecast that did not disappoint over the two days. While the sunshine gave way to grey skies on Sunday, a fresh Southerly provided wind and wave to give challenging conditions, ranging from 12-25 knots throughout.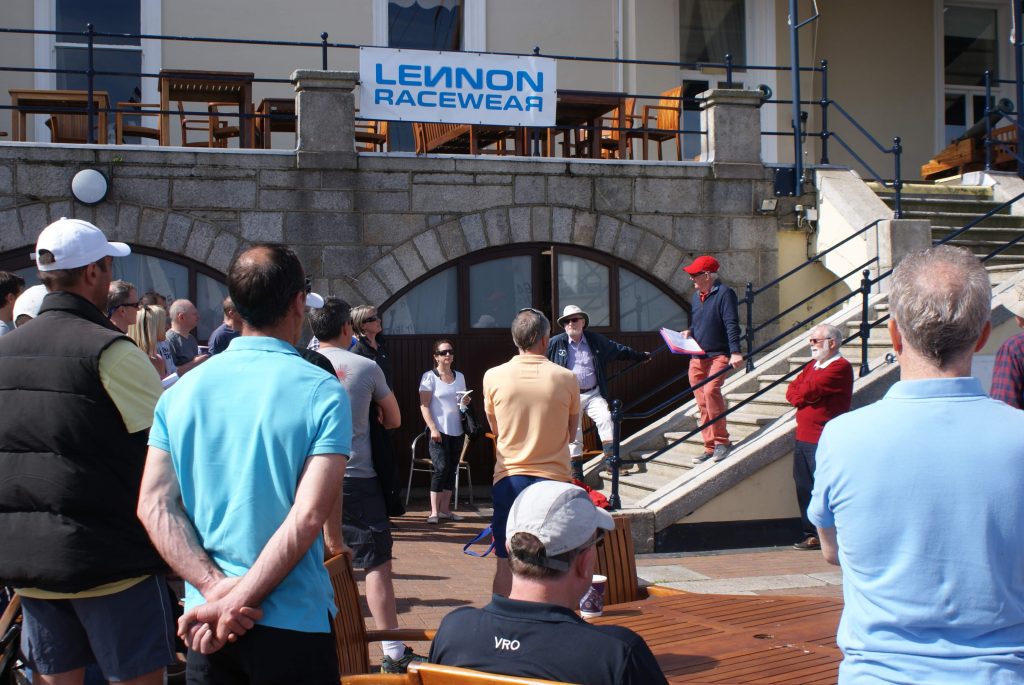 In the Full rigs after Day One, a breakaway group of three sailors threatened to sew up the podium early, despite intense competition throughout a home fleet literally chomping at the bit for the Worlds in September. Manhattan-based Mike Matan, sailing under the burgee of the RYA, claimed the second and third bullets of the day. Whether starting at the pin or the Committee Boat, Matan often seemed quickest away early on port, which was favoured all day as the starboard layline offered up good gains versus those tucked in just below or approaching on port. Daragh Kelleher from Skerries Sailing Club had taken Race One after diving early to that favoured side of the first beat. Corkman Nick Walsh also sat pretty overnight with 4, 2, 2. Only Gareth Flannigan (Ballyholme Yacht Club, reigning champion) and Howth's Dave Quinn managed individual races in the top three.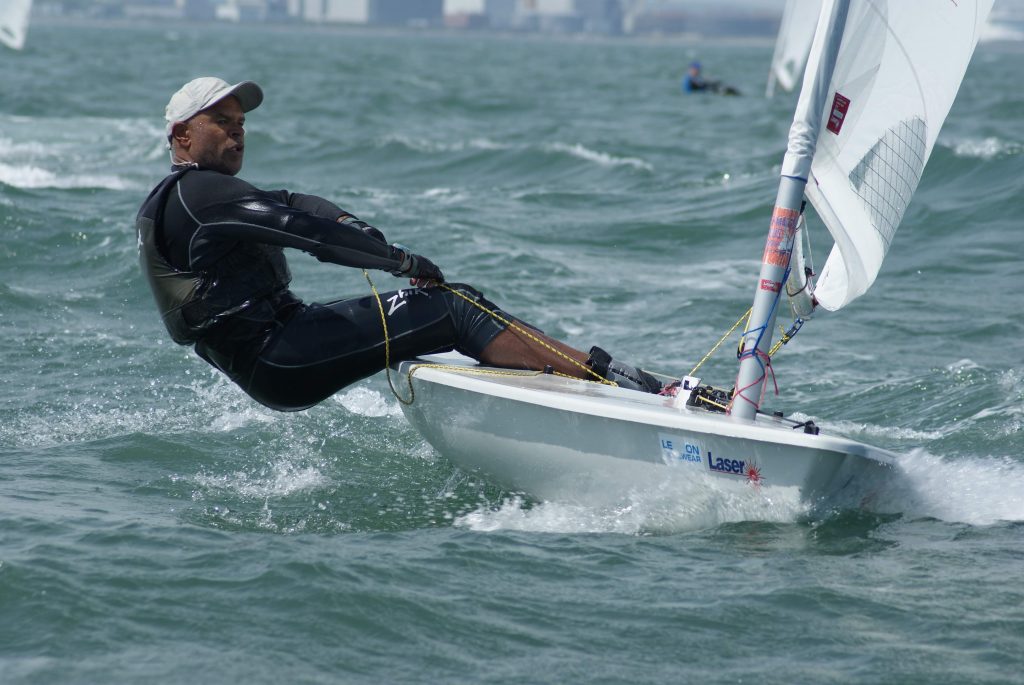 Day Two dawned with a similar forecast and the fleet moved to a different track. The Race Officer made good on his promise to use both of the general race areas that will be employed at the Worlds, where the turnout of 350+ will require two race courses.
More lessons were learnt on flatter, less confused water but again with thrilling offwind legs as the breeze touched 20 knots once more. Up front in the Standards, however, it was business as usual as the same three dominated. Matan took his third win in the final, fifth race to take the overall win and First Master (45-55). Taking the silver medal was Apprentice Master Kelleher, just ahead of Walsh. This made Daragh Kelleher First Irish Master, well-deserved after taking two race wins and using up his discard with a DNC when feeling unwell for Race 3. John Simms from Ballyholme Yacht Club showed he's lost none of his heavy weather prowess and took the top Grand Master award, finishing a highly creditable 5th overall. Sweden's David Bourghardt from Kullavik KK rounded off the top 10, just ahead of David Hillmyer from Sarasota in Florida, competing in his second Irish Nationals (he took a race win in 2016).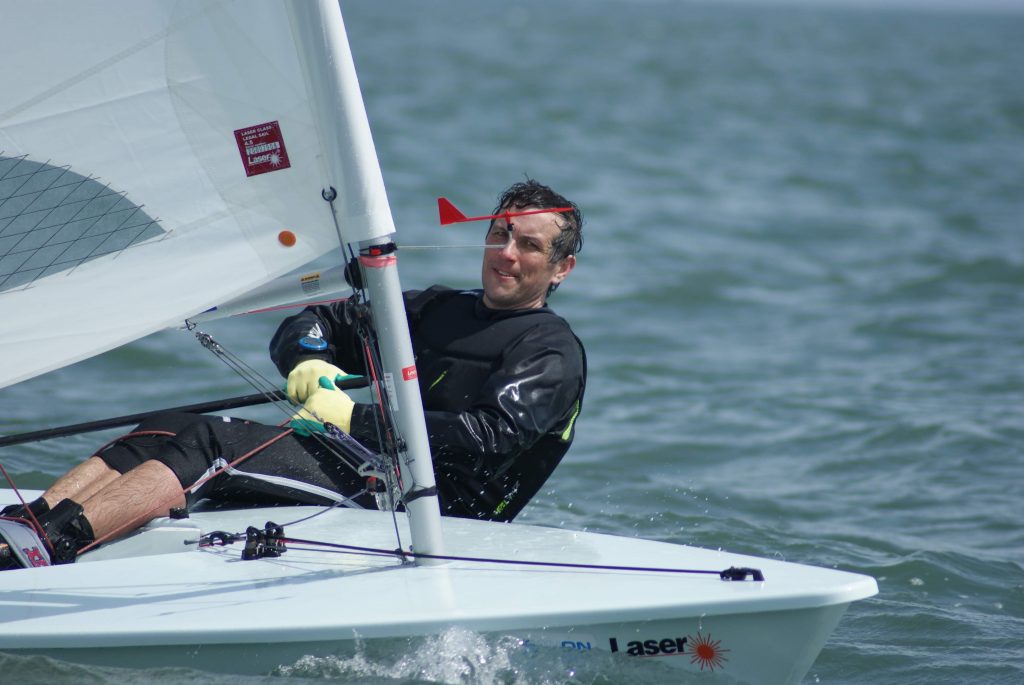 The Irish Laser Masters scene has finally woken up to the attraction of the Radial rig for older and/or lighter racers. It was great to see 15 entries here after also getting good Master turnouts of a dozen boats with the smaller sail, joining in with our youth sailors at early season regional events. The potential for further growth here looks promising.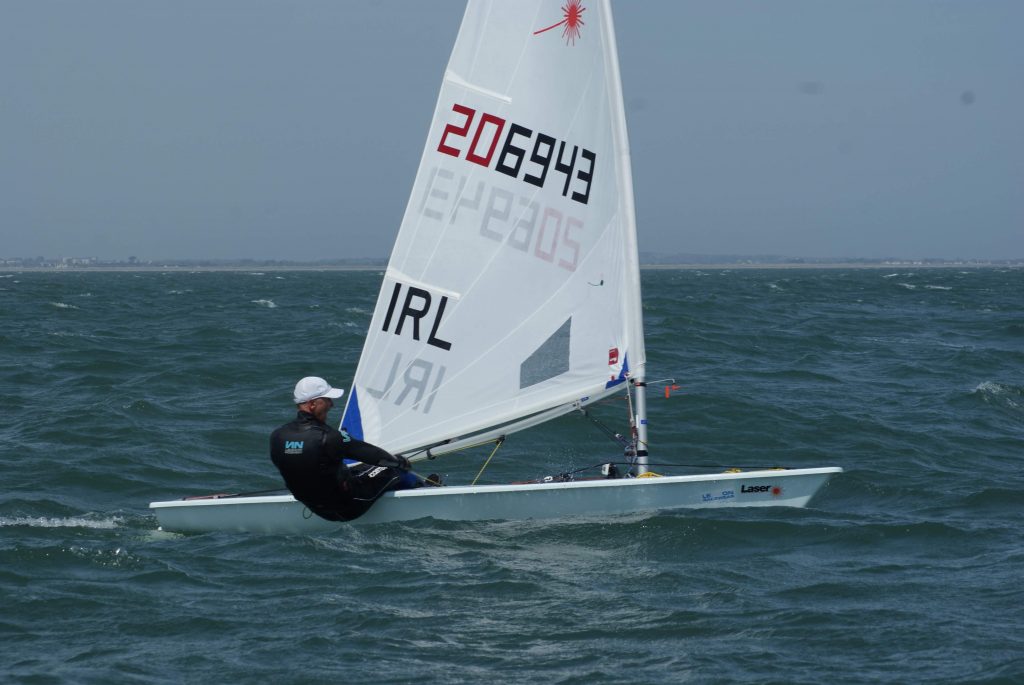 Sean Craig of the host club tended to pop out in front and ended up with five bullets but on Sunday he was pushed and headed for long periods by Chris Boyd from Ballyhome Yacht Club, ex Finn Olympian who, like Craig, has recently transitioned to Radial rig. Also new in the division is Dublin-based Italian Marco Sorgassi, from RStGYC, who came 3rd overall behind Boyd after a consistent showing, holding off the likes of Troy Hopkins (Howth Yacht Club), Ian Magowan (Tralee Bay Sailing Club) and Dragon Champion sailor Neil Hegarty of RStGYC/Baltimore SC. Shirley Gilmore (RStGYC/Kinsale YC) defied her light stature in the strong winds and placed a very respectable 7th overall, claiming the Top Lady award amongst four female sailors in total.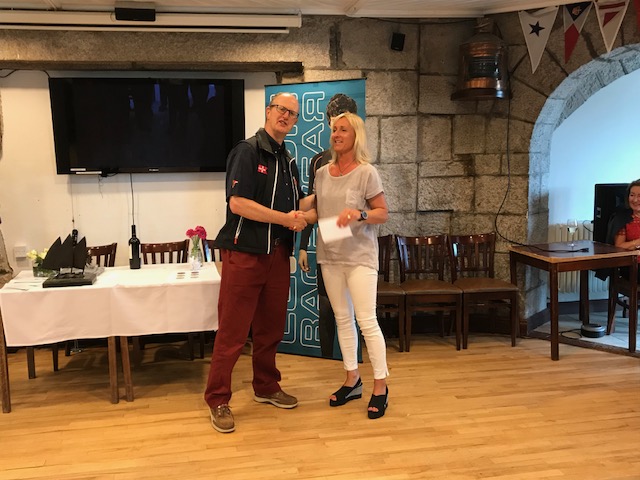 Sailors enjoyed an excellent three course Regatta dinner on Saturday, after which Irish Sailing High Performance coach Rory Fitzpatrick spoke for almost 90 minutes. A Laser Olympian himself (Athens, 2004) he focused mainly on his role as Coach to our "Radial Queen" Annalise Murphy, chronicling all the highs and lows. We heard about the lows and the soul-searching debrief after the London Olympics and that heartbreaking 4th place finish. Then on to the next Quadrennial and a fascinating insight into the meticulous preparations that brought Annalise her silver medal in Rio, a period which also included a glorious win at the European Championships in Dun Laoghaire in 2013.
This Masters regatta was run faultlessly on the water by Race Officer Harry Gallagher, supported by his usual Flagship team and a hardworking team of Dun Laoghaire mark layers and RIB drivers. Start lines were square, courses were fair and race turnaround time was instant. Onshore, a compact but very able team kept the show on the road and we would like to thank the Royal St George Yacht Club for looking after the class so well. It augurs well for the Worlds when the neighbouring National Yacht Club comes onboard as co-host. Thanks also to Open Full rig Champion Mike Matan for his kind words at the Prizegiving. He got his gold medal and Lennon voucher, but that Irish Masters trophy stays in the country with top Irish finisher. Mike was a true Gentleman when this was explained to him.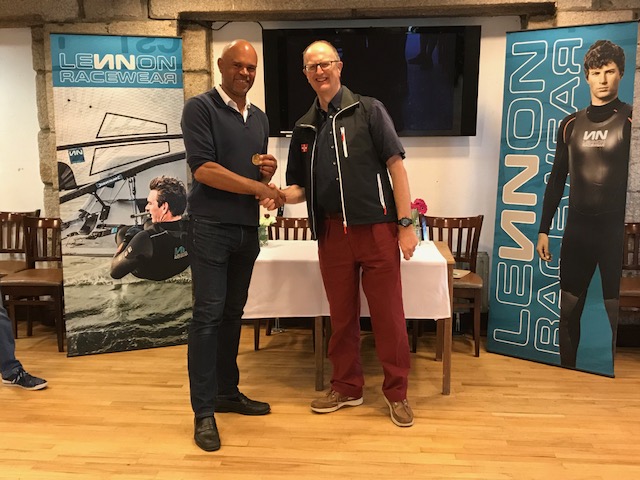 Last but definitely not least, a big thank you to Mike Lennon for his generous sponsorship. Lennon Racewear really is amazingly warm, dry and flexible kit. Laser Masters, more than most, really appreciate good sailing gear. Check out the range at www.lennonracewear.com
Final Results ; https://www.rsgyc.ie/2018/05/results-irish-laser-master-championships-2018-sponsored-by-lennon-racewear/