After four days of light wind, no wind, too much wind, fog, wind shifts and fiercely competitive racing the Volvo Youth Pathway National Championships came to a close in Dun Laoghaire yesterday afternoon. The event saw over 200 sailors from around the country gather to race in Ireland's largest youth regatta. The Laser Radial Fleet had 34 sailors while 29 competed in the 4.7 Fleet.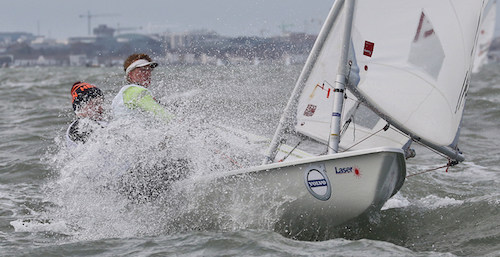 Only three points divided first, second and third in a seven race series in the radials. Jamie McMahon (Howth YC) was third, Tom Higgins (Royal St George YC) second and Jack Fahy (Royal St George YC/Royal Cork YC/Lough Derg YC) was first overall. The first lady was the National Yacht Club's Nell Staunton (7th overall). This event was the "domestic trials" for the 2018 Youth Sailing World Championship which are to be held in Corpus Christi, USA this Summer.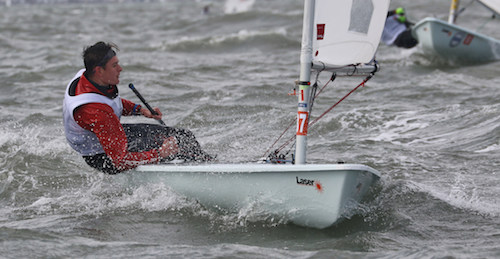 Atlee Kohl of the Royal Cork followed his win at the Laser Munsters last weekend with another win in the 4.7 Fleet. Alana Coakley (RStGYC) was second and Cathal O'Regan (Royal Cork YC) was third in the six race series. Sailors in the 4.7 Fleet were also competing to try to secure places on the Irish Sailing 4.7 Laser Squad who will travel to Poland to compete at the Worlds in July.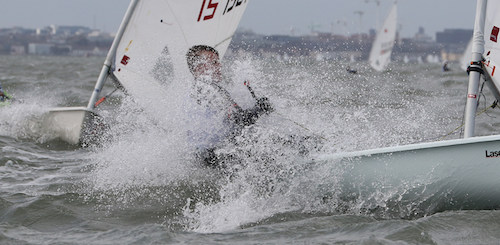 Report after Day One can be found here. Day Two report here and final report here. Prizegiving photos are here.
Final Results can be found here.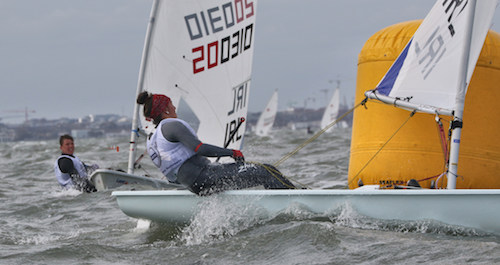 Our thanks to Simon McIlwaine who was afloat on Thursday and took the above photos on the Radial Course – more can be found here.